Hey friends, this post may contain affiliate links. As an Amazon Affiliate, I earn a very small percentage from qualifying purchases made via links from this site, at no cost to you. I only recommend products that I love and trust.
Creating a stay-cation worthy backyard oasis for my family has been my latest obsession.
Tony and I started building our new home shortly after getting engaged in February 2019. We tied the knot with a small wedding in May and by December that same year, we had moved in (which took us 2 days until 4am, but that's another story). It was a magical but hectic period of time to say the least.
And we all know what happens next…yep, COVID-19.
With all the craziness and heart-breaking news, we were extra grateful to already be in our new home during quarantine. The social and travel limitations brought on by the novel coronavirus made me want to create an outdoor space where we could de-stress and have our own little 'vacation spot' even though we had to stay home.
We live in Texas and the summers are brutal, so we had already planned on building a pool. I was a little nervous about following through with it because of all of the uncertainty at the time, but we had already budgeted for it. After some convincing from Tony, we decided to go ahead and I'm so glad we did.
Designing the pool-to-yard ratio was a little tricky since our backyard isn't that big, but eventually came to agreement on a design that gave us a nice-sized swimming area and two corners of yard space for the kids to play in.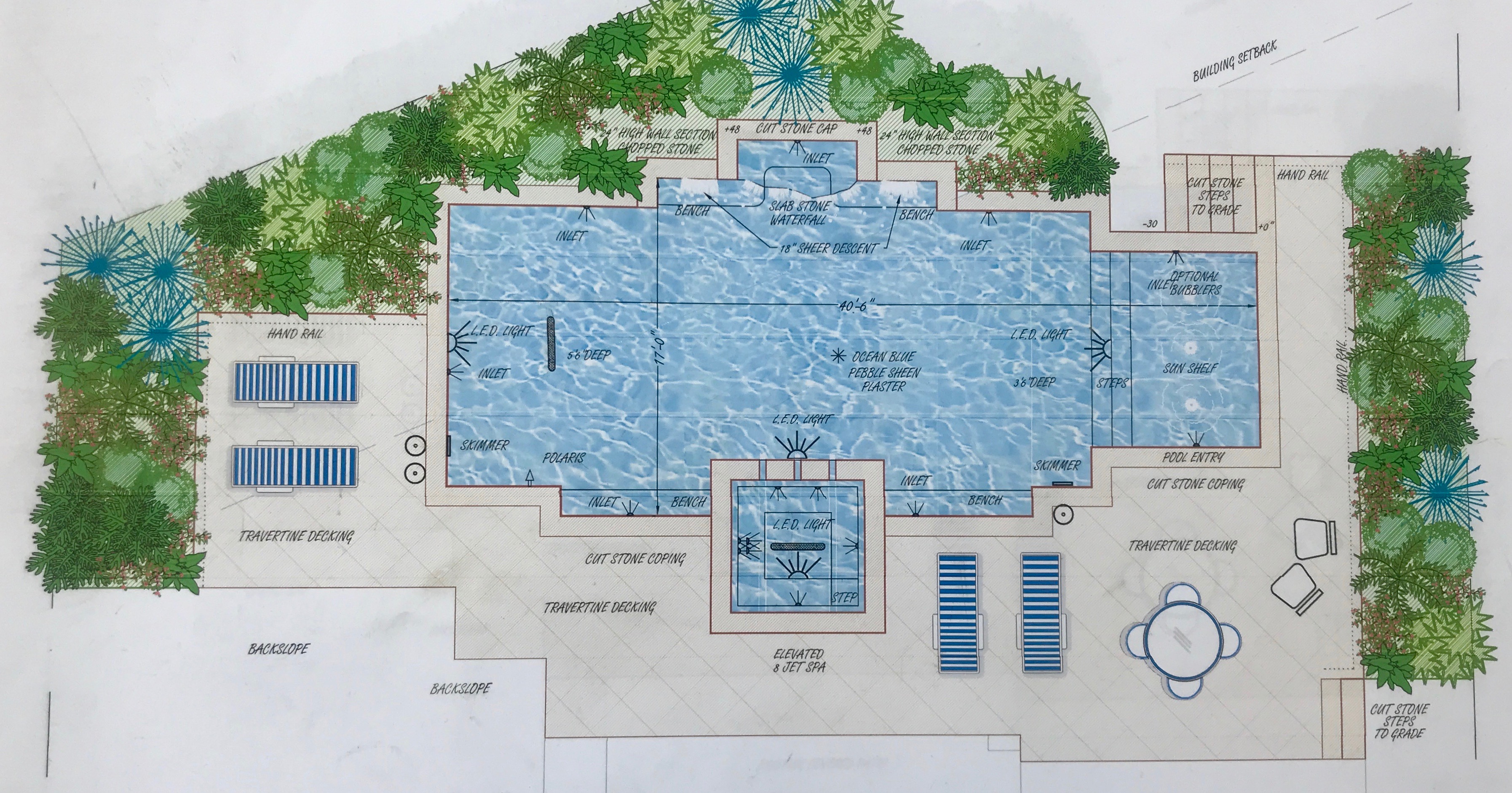 We broke ground in May 2020 and it took about 3 months to complete.
Also, my oldest son graduated high school (COVID-style) in May with plans to move out shortly after. He swears that we purposely planned it to where the pool would be finished after he moved out so that he couldn't use it unless he came back to visit. This wasn't true, but we co-signed on his theory just to mess with him.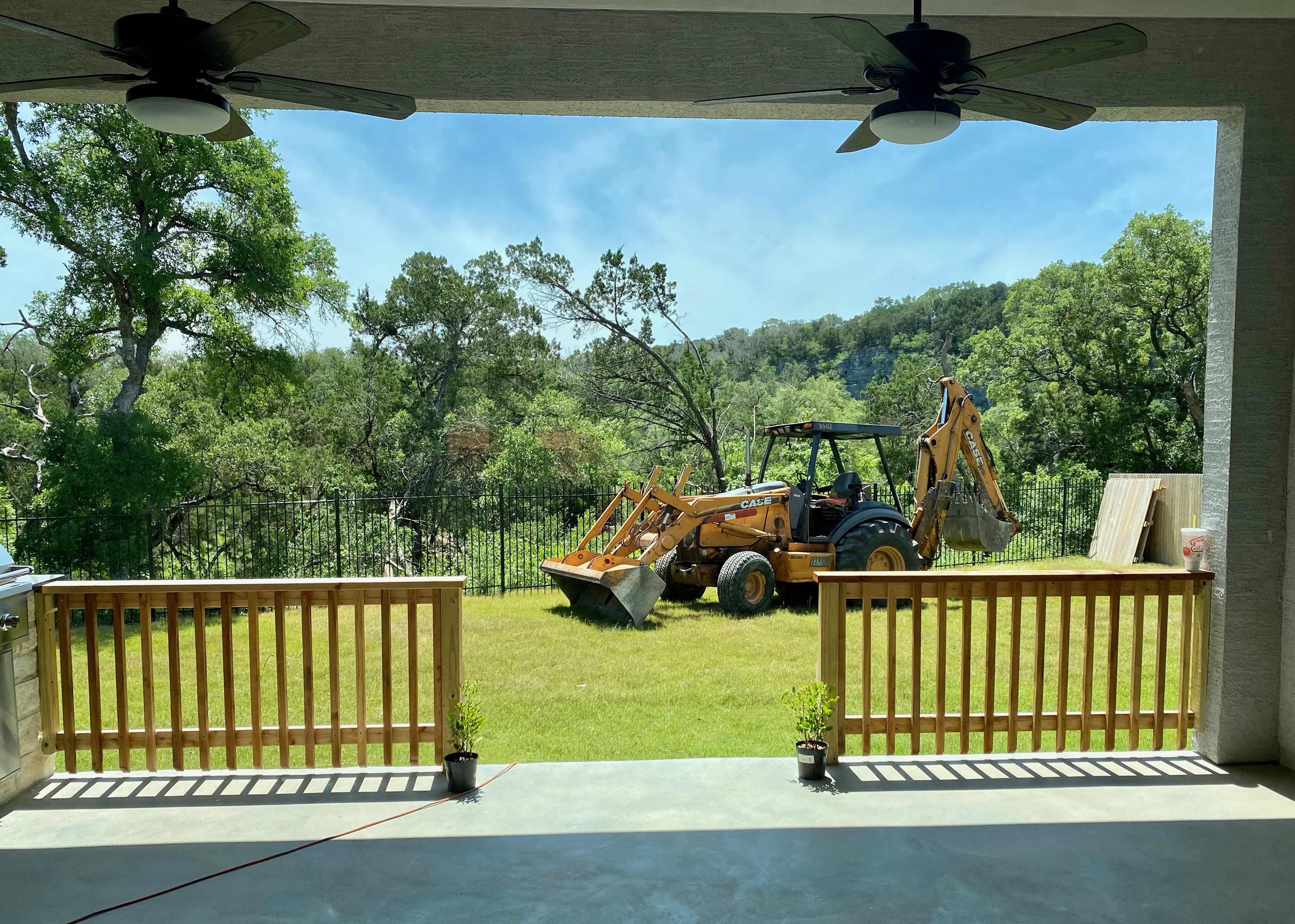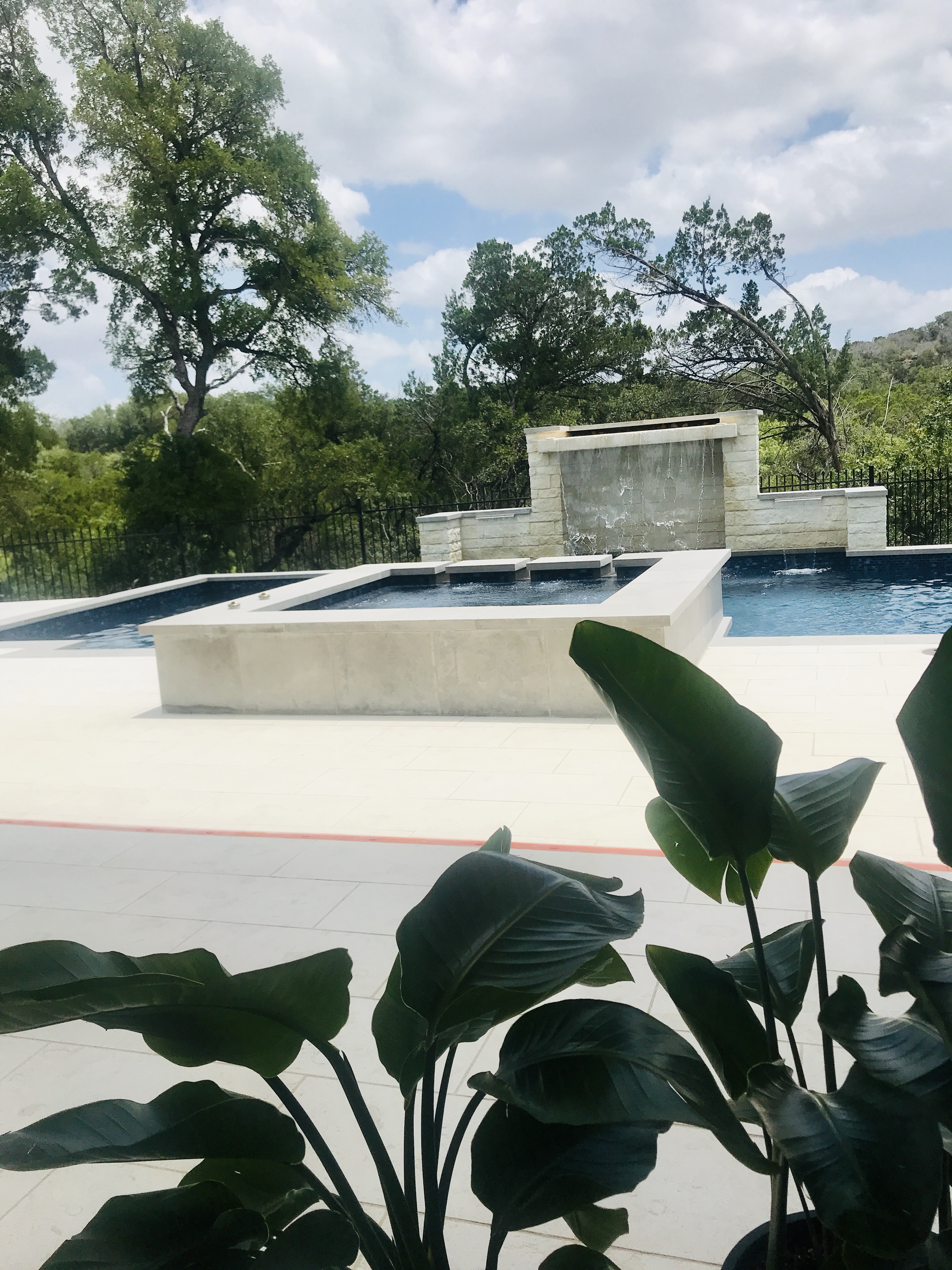 Before we designed the pool we had taken a trip to Hollywood, Florida for our honeymoon. We stayed at The Diplomat Beach Resort, which I highly recommend by the way. It's a beautiful resort with some great restaurants…especially Monkitail.
Anyway, we planned a day by the pool and rented one of their cabanas (designed by Trina Turk!). We had an amazing day lounging, looking up the ocean, listening to the wind through the palm trees and sipping on delicious cocktails.
That trip became my inspiration for creating our own backyard vacation oasis…and I really wanted to incorporate a 'cabana' too. For the furniture, I looked for modular seating because it can be configured different ways to work for both big and small groups. I can't wait until we're able to have our first official pool party!
After many months of research, I decided that the Sunjoy Bridgeport hardtop gazebo was the best choice for our cabana. The black metal roof was the same as what we have on some parts of our house and the natural wood tone was a nice way to break up the modern design and gray tones of the pool. It took the two of us 16 hours over the weekend to assemble it, and I'm very happy with the end result!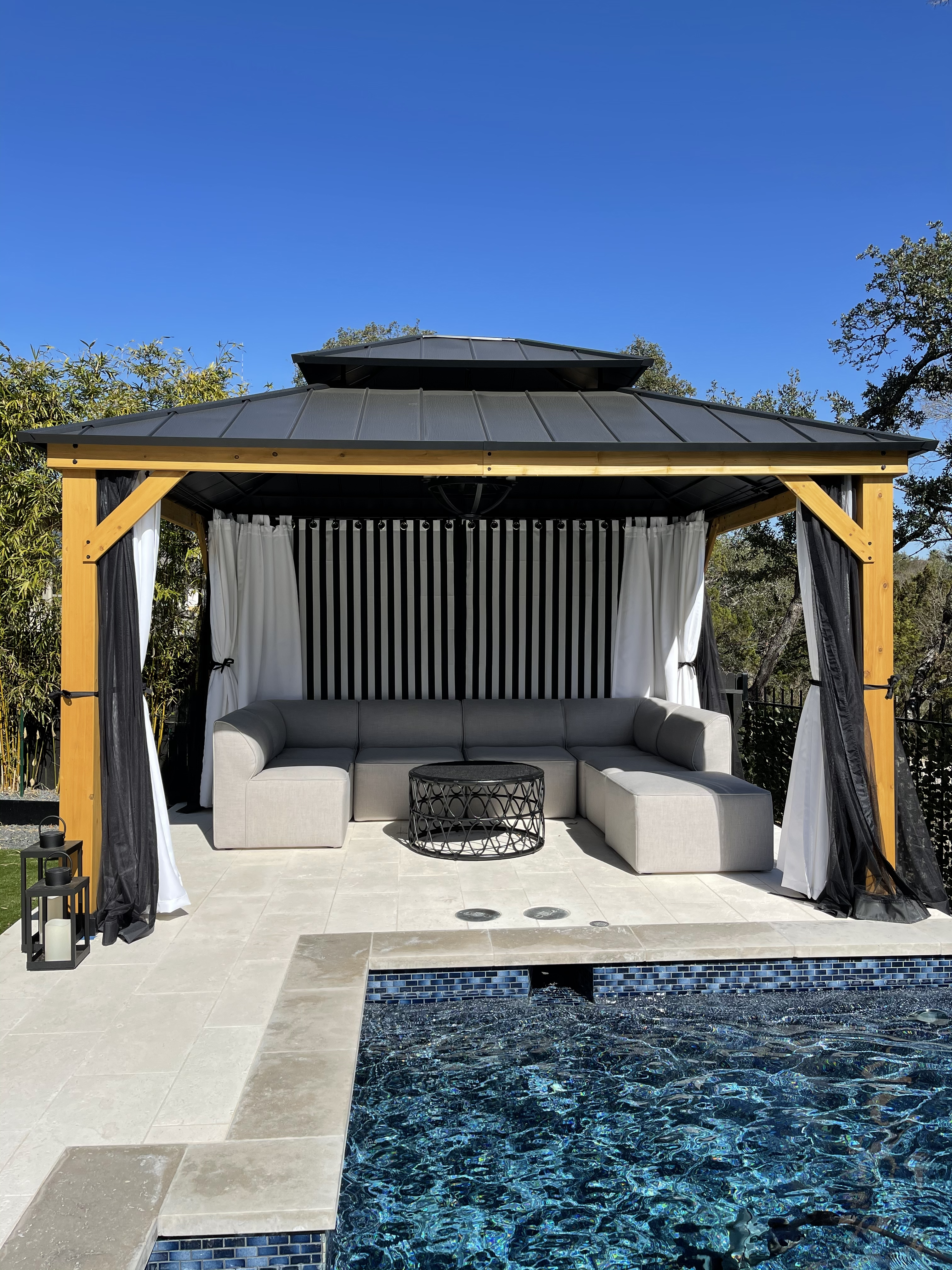 I'll definately be sharing updates as we make more progress on our backyard vacation oasis, but in the mean time, I hope you enjoy my backsyard oasis inspiration board.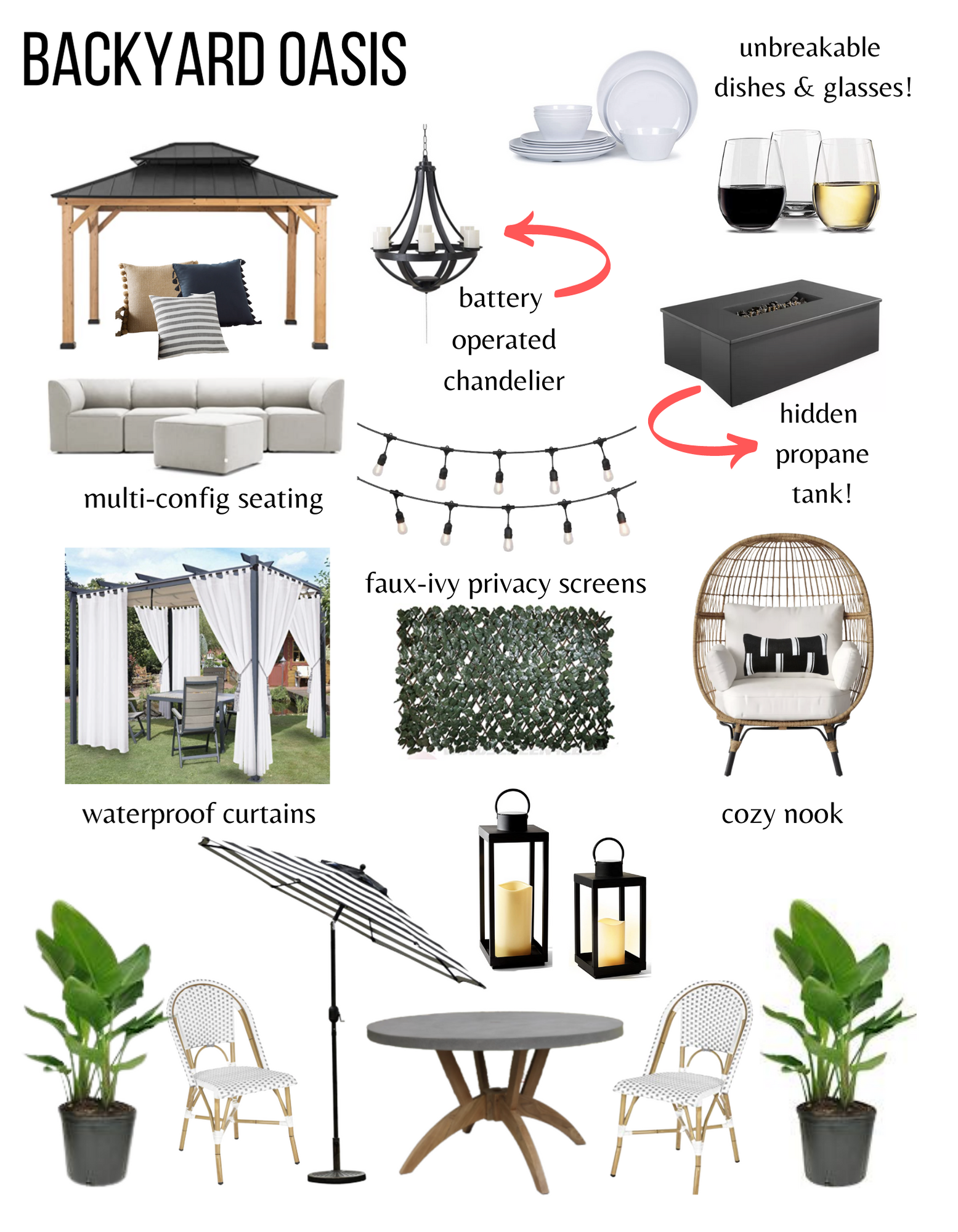 Shop this post
(from left to right)
Gazebo / Cabana | Black Pillow | Striped pillow | Natural pillow | Outdoor chandelier | Unbreakable plates/bowls | Unbreakable wine glasses | Modular Sunbrella sectional - in Cast Silver | Solar string lights | Modern fire table | Waterproof curtain panels - in white | Faux ivy privacy screen | Egg chair - in Linen | Black/white lumbar pillow | Wicker stacking chairs - in grey/white | Outdoor umbrella - in black/white | Round dining table | 14 inch solar lantern | 18 inch solar lantern | White bird of paradise plant
Check out my other inspiration boards here.