Hey friends, this post may contain affiliate links. As an Amazon Affiliate, I earn a very small percentage from qualifying purchases made via links from this site, at no cost to you. I only recommend products that I love and trust.
It was the last weekend of our 2-week holiday break and I knew Monday was going to be rough. To close things out on a high note, we planned on going out for a nice al fresco brunch at a place that serves our favorite Bellini cocktails.
Plans changed when the Big Joe modular sofa sets I ordered for our backyard arrived much sooner than expected…like 3 weeks early….and I was too excited to wait until we got back from brunch to set it all up. Also, the delivery guy stacked all 11 boxes in front of our garage door, so we were blocked in anyway!
(By the way, I love these couches so much - post coming soon).
Long story short, we stayed home and enjoyed a homemade brunch with Bellinis on the new comfy couches in our backyard.
A traditional Bellini is made with fresh or frozen peach puree. We didn't have any peaches, but we did have a bottle of Simply Peach juice - hello shortcut!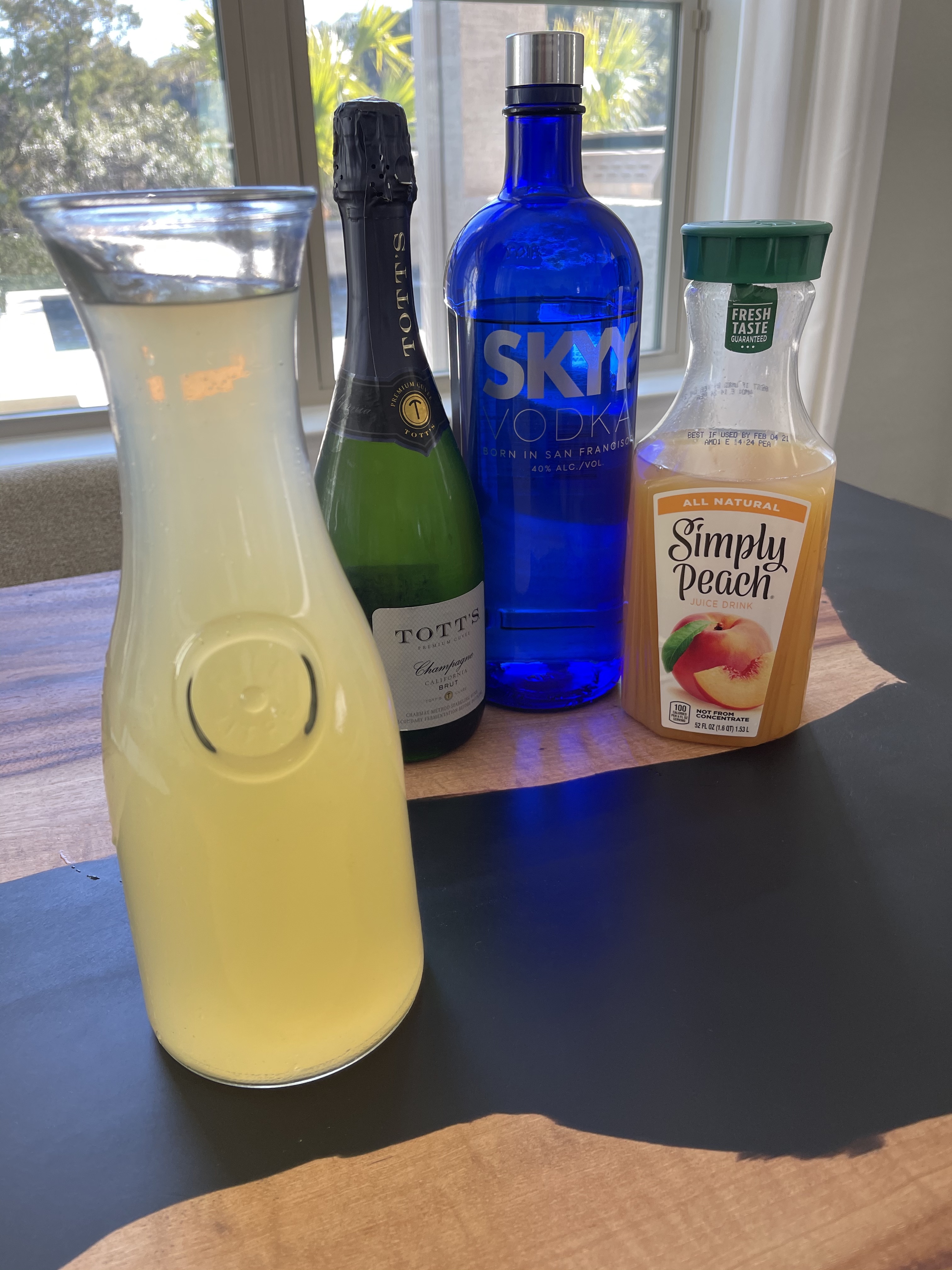 Reasons Why You Will Love This Easy Bellini Recipe
Takes about 5 minutes to make an entire batch
You can make this bellini recipe in advance! Mix the juice + vodka ahead of time, then add chilled chamgpage just before you're ready to serve.
Easy to customize
A nice alternative to mimosas
Can be made with or without vodka
Enjoy bellinis even if/when you don't have peach puree
Quick and delicious
The perfect brunch cocktail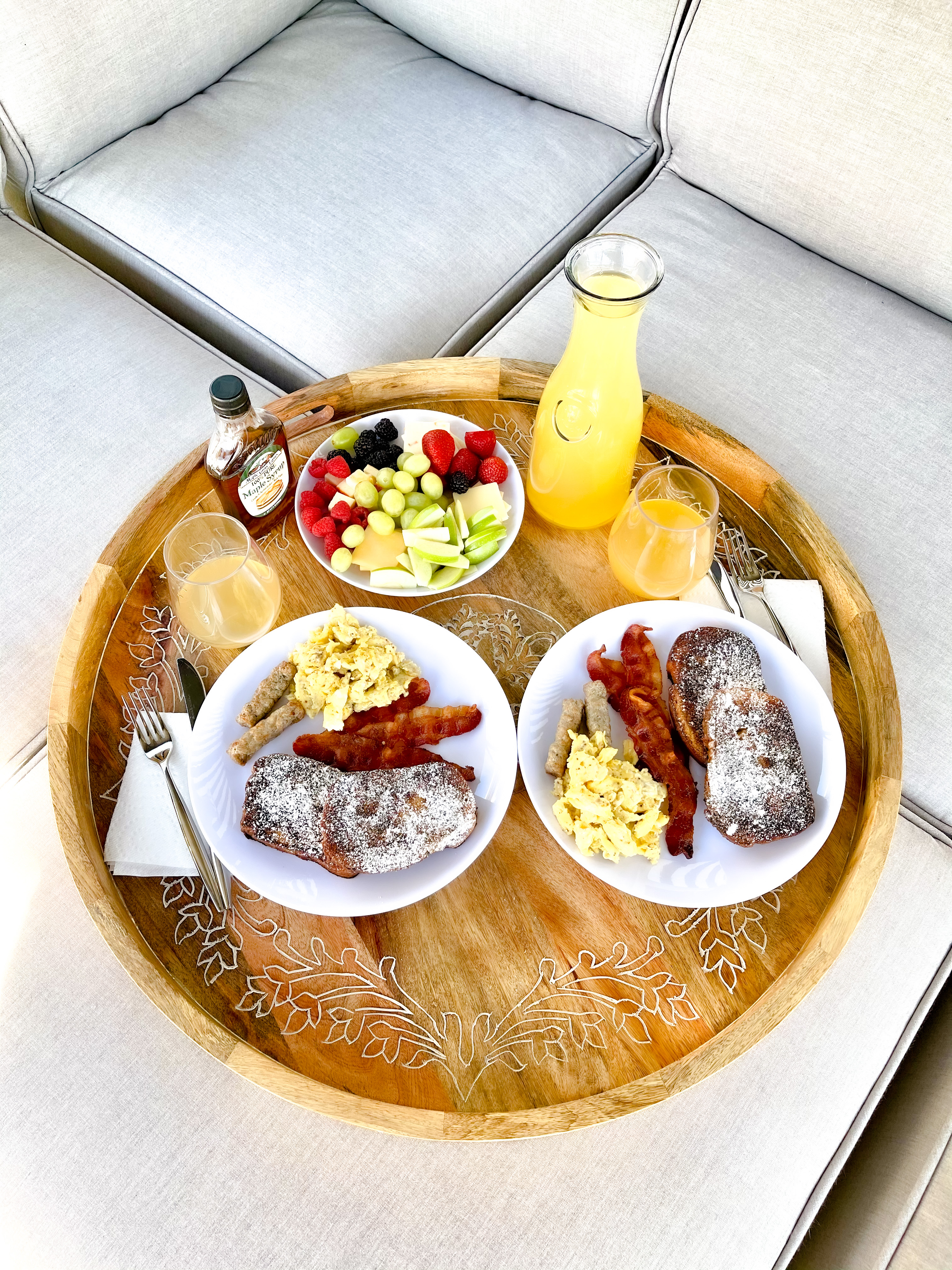 Some notes
I made this batch in a 1 liter juice carafe like this one.
I used regular vodka this time, but you can make it with a peach-flavored or even vanilla-flavored vodka instead! I personally have tried it with the vanilla vodka and it was really tasty.
This drink is best served chilled, so make sure your champagne or sparkling wine and Simply Peach juice are nice and cold from the start. Bonus if you store your vodka in the freezer, but you can also chill the vodka with ice and strain it if not. The keep the carafe in the refridgerator or on ice in between servings.
Traditional bellinis are made with Prosecco, but I prefer a Brut champagne or dry sparkling wine - the peach juice adds a good amount of sweetness. Use whichever you like best!
After you pour bellini, you can always add more juice to your glass if you like it sweeter.
If you don't have or like vodka, no worries! It's still pretty great with just the bubbles and peach juice.
Some of my go-to choices when making cocktails are Tott's Brut Champagne (pictured), Alma Brut, and Veuve de Vernay. These are also pretty good for drinking on their own…although for that my personal favorite is Veuve Clicquot Brut.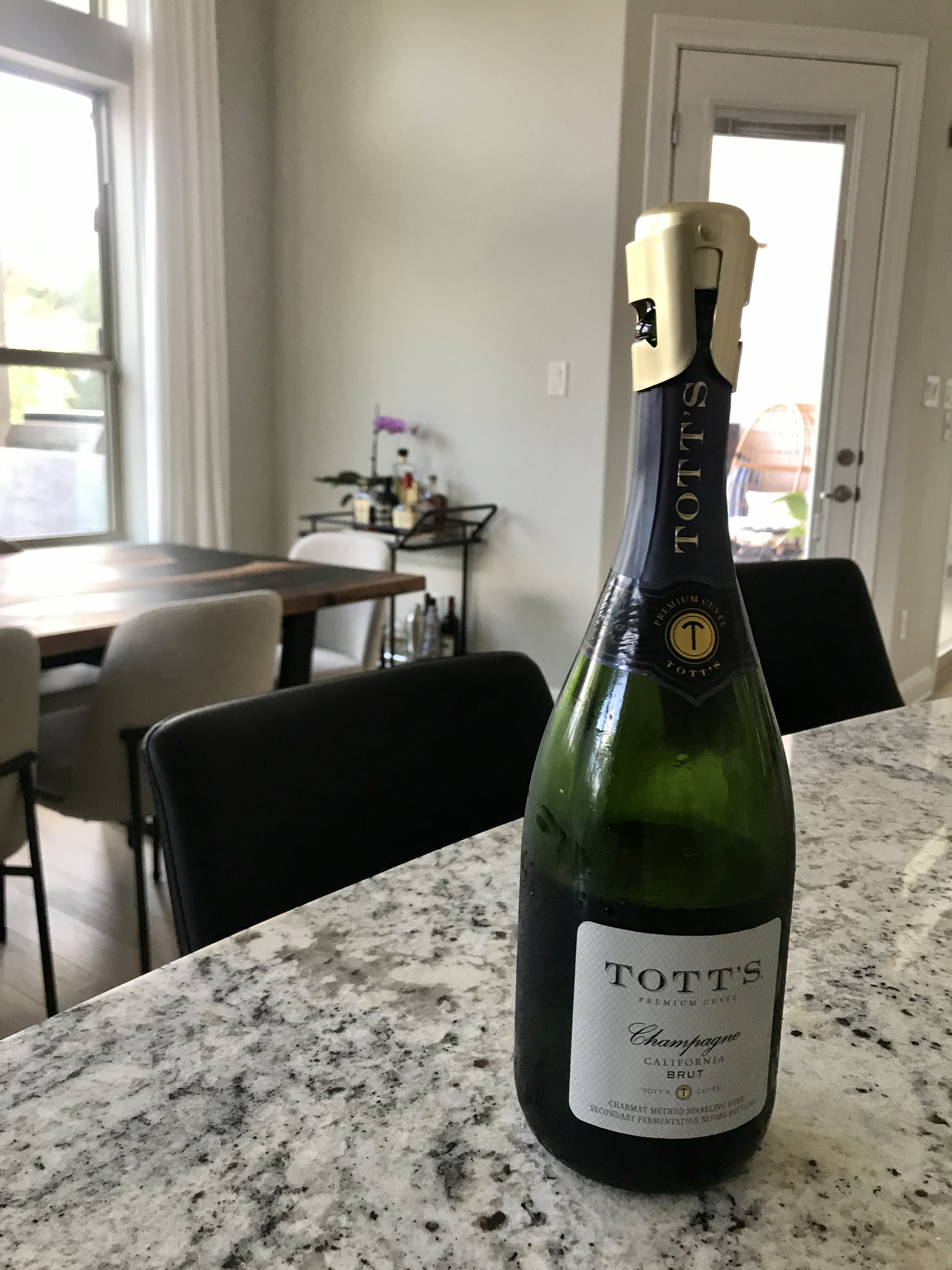 Okay - Bellini time!
Shortcut batch Bellini recipe
Approximately four (8oz) servings
1 (750 mL) bottle of white sparkling wine or champagne
3 oz vodka
Simply Peach juice
Preparation - Slowly pour all of the champagne into the carafe; going too fast will result in overflowing bubbles! Add the vodka and slowly fill to the top with peach juice. Give it a gentle stir (I use the handle of a wooden spoon) and enjoy!
Shop this post