Hey friends, this post may contain affiliate links. As an Amazon Affiliate, I earn a very small percentage from qualifying purchases made via links from this site, at no cost to you. I only recommend products that I love and trust.
My husband and I both have IT jobs and work from home full time, so our days already consist of trying to get things done in between a ton of meetings that start bright and early. With the COVID pandemic, we also decided to tackle homeschooling full time.
During the week, it's not uncommon for both of us to already be on conference calls when our 6 year old son, Mason, wakes up (which is usually around 7am).
If he gets up and when we're both on a call, breakfast has to wait until one of us can get it for him.
I wanted to come up with something that allows him to get breakfast on his own and make it a little easier on all of us during those hectic mornings. I didn't necessarily want a full 'breakfast station' though, just something small and simple that didn't take up a ton of space in our kitchen.
For the main course….cereal. I know, it's the obvious choice, but so easy. For a little variety, I filled a dual food dispenser with two of his favorite cereals. With some plastic bowls in reach, it's quick and easy for him to serve himself.
Side note - The white plastic bowls are from this 12-piece melamine set - I love how they look similar to our white ceramic dishes. We mainly use them for 'al fresco' dining or when we do a Bali-inspired floating brunch! Read more about that here.
He's not quite ready to handle a gallon of milk without the risk of spilling a good amount, so I fill up two condiment squeeze bottles with milk for him to squeeze into his cereal bowl, which he thinks is fun to do.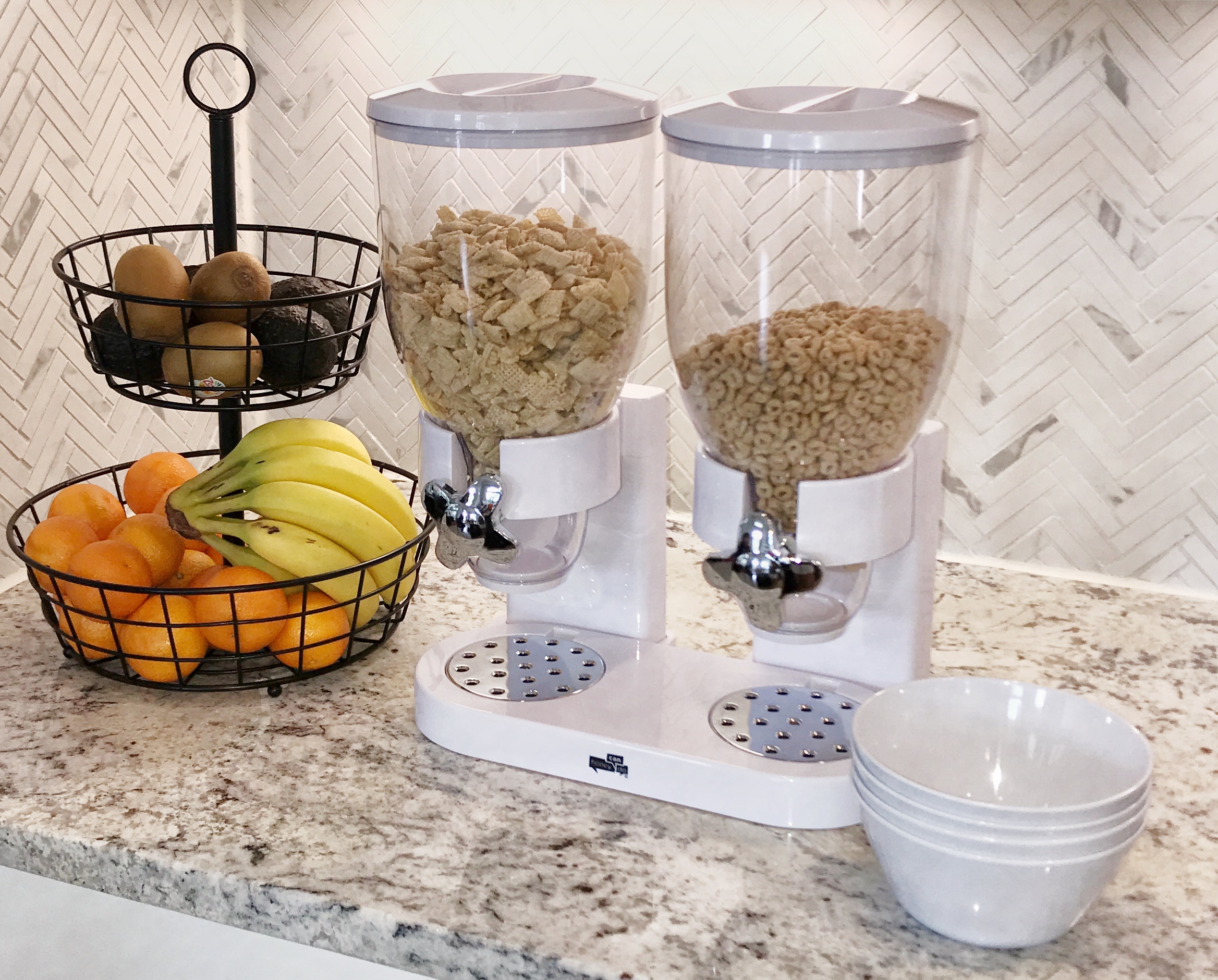 I also started to keep these other self-serve breakfast options in reach for him in the fridge or on the countertop:
Peeled hardboiled eggs
Individual servings of greek yogurt
Bananas and/or prepared fruit
Muffins
It's been a few weeks and so far, so good! Every now and then I forget to prep the milk in the squeeze bottles but overall it's working out very well.
He seems to like the freedom and indepenence of making his own breakfast. It's also coming in handy on the weekends when he still gets up at 7am!
I hope you find this helpful in your home too!
Shop this post: