Hey friends, this post may contain affiliate links. As an Amazon Affiliate, I earn a very small percentage from qualifying purchases made via links from this site, at no cost to you. I only recommend products that I love and trust.
You need this sassy guacamole in your life.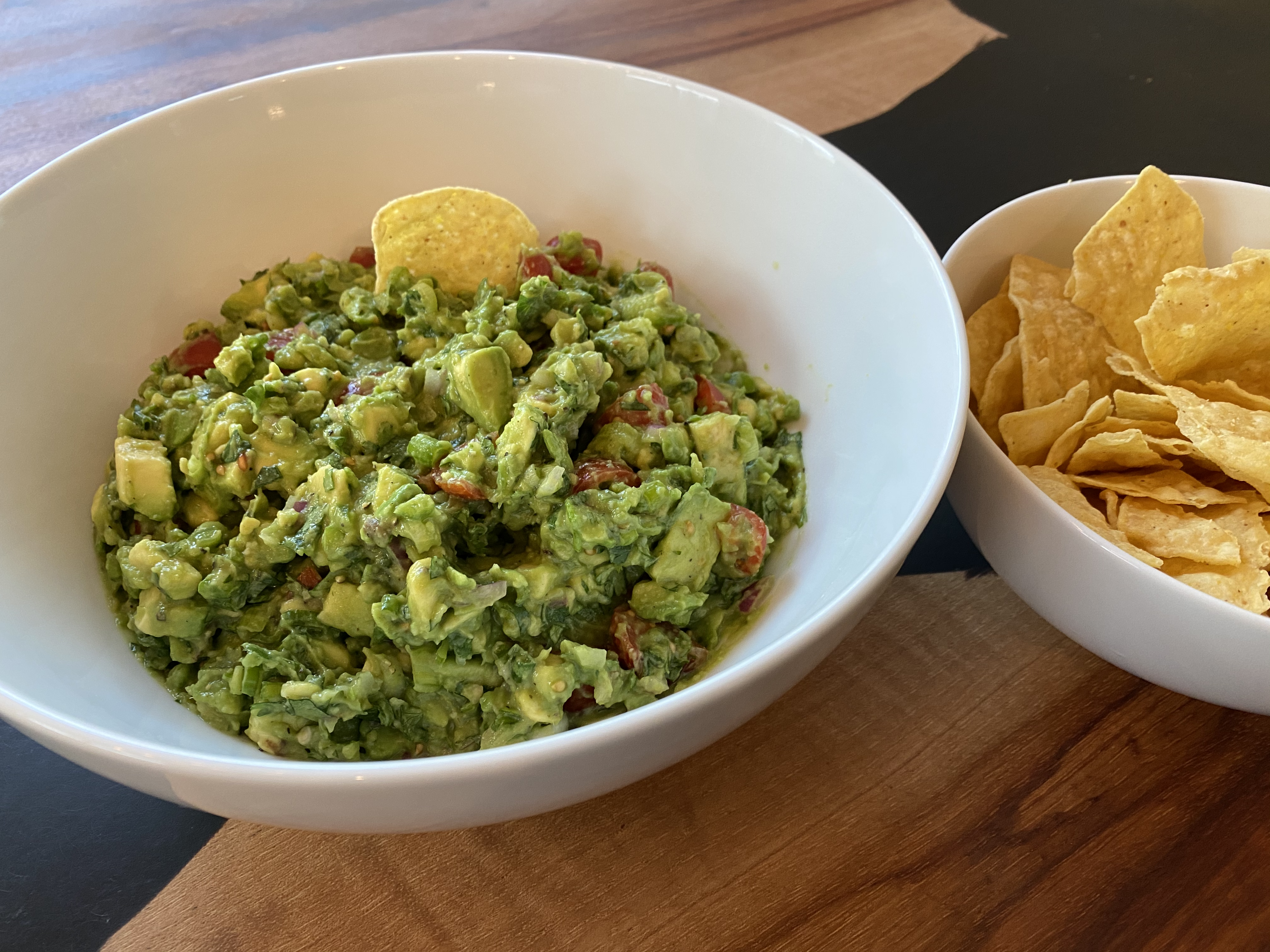 It's spicy with a little attitude and has just the right amount of texture. My husband cannot control himself around this guacamole and typically eats so much that he ends up (accidentally) making it a meal.
I like to put a good amount of garlic and spice in almost everything I make; this recipe is no different. If that isn't your thing, skip it altogether or just add less than what the recipe calls for.
Ingredients
5 large ripe avocados
2 or 3 green onions, diced
¼ cup red onions, diced (optional)
3 cloves garlic, minced
½ lime, juiced
2 serrano peppers (minced, one with seeds & one without)
1 large ripe tomato, diced (or) about 15 cherry tomatoes, quartered
Small bunch of cilantro, chopped
1 tsp ground cumin
½ tsp garlic powder
½ - 1 tsp kosher salt (to taste)
1 tsp fresh ground black pepper
Preparation
Um…put all that %#@! in a bowl and stir it. ;) Just kidding….but not that much.
Cut four of the avocados in half, discard the pits, scoop out the green goodness, chop into small pieces and put into a large bowl. Leave the fifth one alone for now; see tips.
Add all other ingredients into the same bowl, and mix until well combined. Taste and adjust seasoning if needed.
Let it sit for about 5 mins, then give it another good stir.
Grab a spoon or some of your favorite tortilla chips and show that guac who the real boss is!
Tips
If you prefer a smoother texture - smash some or all of the avocado with a fork instead of chopping it.
I personally like this with a little of both red and green onions. If you prefer, skip the green onion and sub ½ cup of diced red or white onion instead.
The actual size of the avocados you use can affect how much salt, spice, lime, etc. is actually needed. If you're unsure, start with half of the spice, salt, and lime quantities, then taste and add more if needed.
If you happen to over-season, just add the 5th avocado.
Give it a little sweetness by mixing in some fresh diced pineapple or mango instead of (or in addition to) the tomato.
Spread on toast and top with a fried egg and/or some bacon; so delicious!
Enjoy!