Hey friends, this post may contain affiliate links. As an Amazon Affiliate, I earn a very small percentage from qualifying purchases made via links from this site, at no cost to you. I only recommend products that I love and trust.
There are many decisions to make when building a new construction home, before and after you move in. I wanted to share some less common considerations and related upgrades that we made while designing, building and getting settled in our new home. Enjoy!
1. Future-Proof Cabinets
There are some cabinet materials that can't or shouldn't be painted, like vinyl, laminate, and engineered wood for example. If your preferred cabinet color requires an undesirable upgrade and you plan to 'get the look' with paint instead, be sure to choose a compatible material when selecting your cabinets from the design center.
If you know you're not the formal dinging room type, consider converting it into a space that you'll actually use…like a home office. That's exactly what we did when we reviewed the design plans with our builder. This involved a few changes to the plans…like adding some double doors, opting for a ceiling fan instead of a chandelier, some additional outlets for two desks and a 'high-low' for mounting our Samsung Frame TV between the two desks.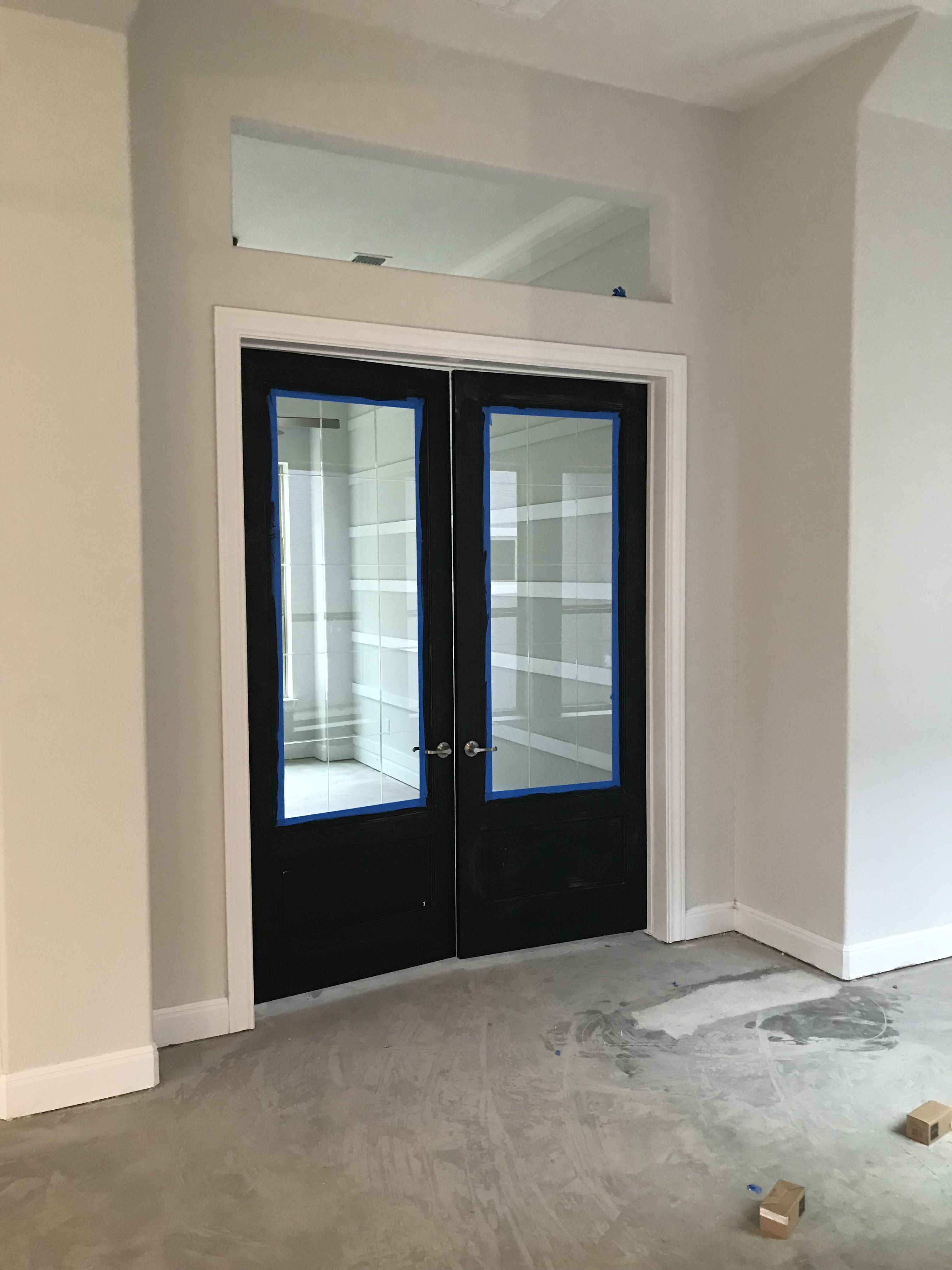 As you may know, if you add a closet to a room with windows….PRESTO, you officially have an extra bedroom. That's exactly what we did to the room that was originally supposed to be the home office (according to the design plans).
Adding a closet to the originally planned office cost us about $2,000. Considering that an additional bedroom adds about 4-6% to the value of our home, it was a smart and super easy decision to do this relatively low cost upgrade.
3. Drop-in vs Freestanding Bathtub
Our owner's en suite included a standard drop-in tub, which is when the tub is surrounded and enclosed in tile, usually in a corner of the bathroom. We upgraded to the builder's single (and likey overpriced) option for a freestanding bathtub.
Overall I'm happy with this decision, but I realize now that we could have considered a different route. They might have agreed to skip the buildout altogether and just do the plumbing work so that the tub of our choice could be installed after closing on the house. This would have broadened our design choices and probably saved us a few thousand bucks.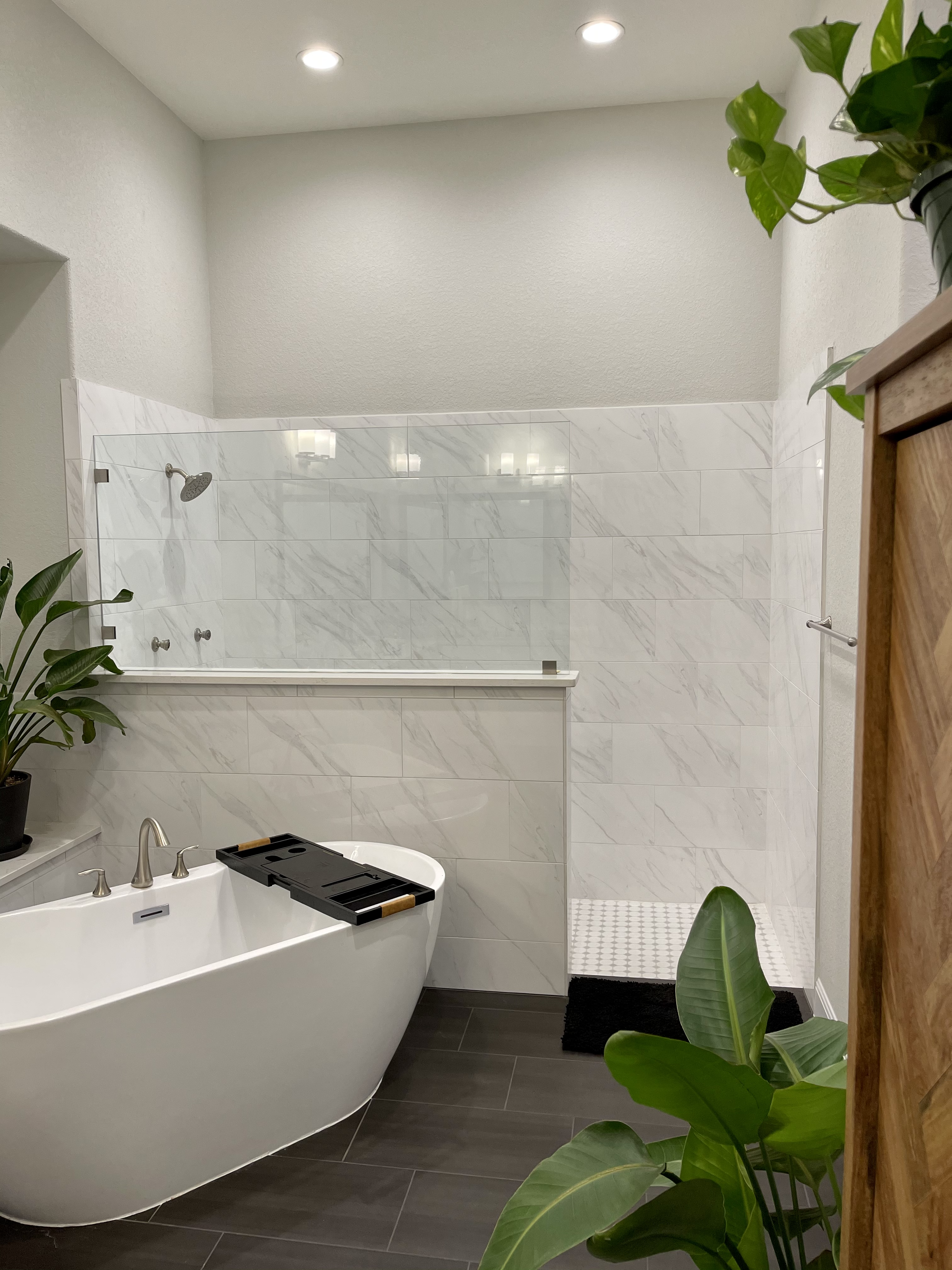 4. Shower Niche Placement
We wanted to keep soaps, shampoos and other shower products out of sight, so we asked for the niche to be built in a way that is not visible unless you're actually taking a shower. I'm so happy we did this - it gives us a clean and tidy look from the outside, even though that's usually not the case on the inside.
5. Custom Closet Prep
We planned on building 'custom' (Ikea Pax) closets in our owner's suite immediately after moving in. We asked the builder not to finish out that closet with clothing racks so that we didn't have to remove them before we could install the custom stuff.
6. Water/Toilet Closet "Upgrade"
We asked for an uncommon (and very inexpensive) upgrade - adding an electrical outlet to the 'water closet' in the owner's suite bathroom, so that we could plug in a night-light. Now we don't have to turn on the light for those middle-of-the-night trips to the bathroom!
Our builder provided the option to upgrade to a traditional media room, which is essentially a room with no windows. Instead, we chose to add their 'bonus room' option. It's in the same location, but has four windows along the back wall. We still set it up as a media room.
When the room isn't being used for movie-watching, we can leave the doors open to enjoy the second-story view and natural light in the room. When it's time to watch a show, our floor-to-ceiling blackout curtains do the trick. This gives us more of a multi-purpose or 'flex' room, which is also a nice differentiator for furutre re-sale.
8. Pre-treated Grout
We paid a very small amount to upgrade to pre-treated grout, which is more resistant to stains, mold and mildew. I paid way more to have the grout professionally sealed in our previous home…they did a terrible job, and I ended up going back over what they did by hand. I was very happy to skip this step and still get the extra protection.
9. Carpet Pad Regrets
This is another fairly inexpensive upgrade, and one that we actually forgot to do. Our upstairs is carpeted and the standard pad they used is pretty thin. When we're walking around, we notice and regret it…especially since we went through the trouble of upgrading the carpet itself. Lesson learned.
10. White Ceilings are an Upgrade
I was surprised to learn that it is standard for most new home builders to paint the ceilings the same color you choose for your walls. Unless you pick white for your walls, this could become a major design issue for you. This one might be a little more common knowledge, but I wanted to mention it anyway because it's definately something you don't want to realize after-the-fact.
Even though our wall color is very light gray, we still opted to upgrade to white ceilings to keep things light and bright…and in case we ever want to go with a darker wall color in the future. You can also skip the upgrade cost by choosing 'builder's white' paint everywhere, and then paint the walls in a different color room-by-room over time.